07.08.2023
On Saturday, TAFF audience can enjoy the retrospective screening of our guest and member of the 2023 jury, Thomas Renoldner. Here you can read more about Thomas' work, inspirations and thoughts – in 4 chapters, in his own words.
From "How to do a Trickfilm" to "DONT KNOW WHAT"
Short films from 1980-2020 in 4 chapters
My primary and vigorously pursued artistic interests in my youth were music, drawing, painting, but also what can be named installation and performance. Many of these artistic approaches can also be found in my films, which follow different interests in different periods.
In a first period (1980-1990) – I call it my 'naive, but cinema-analytic phase' – I made selftaught super-8-flms. Some were realised spontaneously without much planning, others were more conceptional: basic investigations of the possibilities and regularities of cinema.
The second period (1989-1994) – my "academy years" – was the time of my studies in the studio for experimental animation at the Academy of Fine Arts in Vienna. At that time I followed two different directions: funny, figurative cartoons and serious, abstract works in the sense of a visual music tradition. The most successful film of this kind was BUNT ("Colorful" – 1991), it was selected for the international competition at the Hiroshima Animation Filmfestival 1992 and thus opened up important life perspectives for me.
In a third period (1994-1998) – let's name it my "split screen years" – I explored different experimental techniques, among them the split-screen, executed directly in the 16-mm camera (Arrifex 16ST) by using multiple exposure and hand-cutted masks. The artistic interest behind was to explore, how cinema can open new perspectives for our experiences of time and space. An outstanding film in that sense was SOPHIA'S YEAR (1998), for which a specialised lab transferred 12 super-8-films to a 35mm negative.
After a ten years creative break (during which I produced the films of friends and did one commissioned work for the "Mozart Year 2006") after 2010 a forth period began, – a phase of "restart, remix and renewal" – SUNNY AFTERNOON (2012) and DONT KNOW WHAT (2019) became my two internationally most successful films. I think that in these works I have successfully implemented all the experiences from earlier phases. And I am working on my next movies.
1 . 1980ies: the naive, but 'cinema-analytic' period:
1. How to do a Trickflm
Super-8, 1982, (edited 2023), 06:15
One of my first "test movies", playfully experimenting with different animation methods. Usually I don't show this film in public, but for this 'retrospective' of my work it is a nice way to demonstrate, how I started. I will give live comments to the silent movie.
2. Warten Sie auf etwas Besonderes ? (Are you waiting for somethings special ?)
Super-8, 1983, 04:22
The first part is a direct film: painting and scratching on live action sequences: partly leftovers of other films and one sequence particularly made for this film. I basically followed one vague idea about what I felt was typical for "avantgarde film": to destroy the film material. As a contrast to the physically intense overstimulation of the senses I wanted to add a very slow second part: myself just staring at the audience, which I felt was quite 'avantgarde' too.
3. Die Begrenzungslinien der Projektionsfäche (The borderlines of the projection screen)
Super-8, 1983, 03:13
I ask the question of how cinema relates to reality, and I make the fact visible, that film always means to be fragmentary. We may also call it a 'performance film".
2 . 1990ies – part 1: the academy years: animation studies
4. Bunt (Colorful)
16mm, 1990, 04:05
I made this film during the year, when our first daugther Laura was born, with the idea of abstract images in the mind of a child growing up. 20 basic images and transitions consisting of 24 drawings in between them resulted in 500 watercolors, which I recorded using masked multiple exposure to 16mm film, and I completed the film by adding my minimalist music composition.
5. Würfel (Cubes)
16mm, 1990, 02:00
I found this 6 cubes image puzzle on a fea market and simple visually liked it. Then I decided to use them for a music video for the pop band "MARIA", three friends of mine. Always two of the cubes follow the accents one of the three instruments: guitar, keyboard and drums.
6. Lonely Cowboy in 1992
16mm, 1992, 02:33
This is one of my few "classical cartoon" movies. I made it on the occasion of the 500-years-anniversary of America's "discovery by Christopher Columbus". My commentary to that anniversary was to imagine, what a cowboy would discover in Northern America in the year 1992.
7. Rhythmus 94 (Rhythm 94)
16mm, 1994, 04:10
My diploma flm refers to early visual music (Hans Richter's Rhythm 21 inspired the title) and evolves from realism (starting with a homage to E. Muybridge) to digital abstraction. Both visual and musical composition follow a strict polyrhytmic structure. Technically it is a quite complexe multiple exposure (via aerial image projection) of image loops of different lengths to 35mm, which After Effects would allow today with much less effort.
2a. commissioned film in between:
8. MTV- Station ID "Cubes"
35mm, 1998, 00:10
I was very lucky to meet Peter Dougherty (art director at MTV) at the Hiroshima Animation Festival and he invited me to contribute one of the hundreds of MTV Station IDs, which in the golden times of MTV could be realised by many lucky artists. For this entirely hand-made commercial based on my former music video "Würfel" I built three different sets of cubes, and Christof Dienz contributed an outstanding musical composition, performed by the music group "Die Knödel" ('The Dumplings').
3 . 1990ies – part 2: the split sceen years: experiments with time and space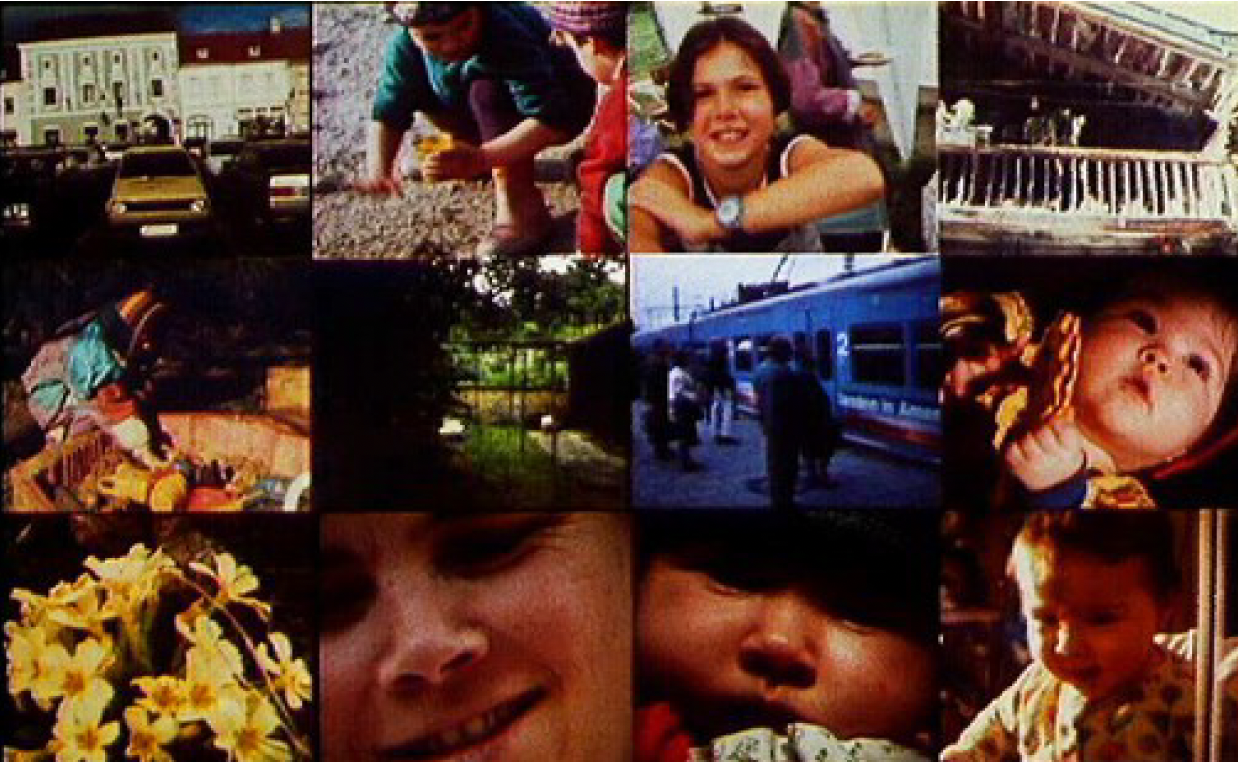 9. Hiroshima.August.92
16mm, 1997, 05:56
During my visit of the Hiroshima Animation Festival 1992 I started my experiments with multiple exposure directly in the 16-mm-camera (Arrifex 16ST) by using hand-cut masks in the shape of horizontal and vertical stripes, which, when combined at the end of the film formed 64 tiny squares. The three chapters of this movie are called "Hotel Room", "Collecting Houses" and "Beach / City".
10. Picnic in the green
16mm, 1996, 03:05
This film was meant as another technical test for a 12-windows split-screen exposure, also executed in the 16mm-camera to one film negative. I found out that when the camera stops, one or more frames can be incorrectly exposed, resulting in flashes of light in shades of red, orange, yellow and white.
But since I then really enjoyed the "experimental look" of these 'failures', I decided to ask my friend Andi Haller to turn it into a 'music video'. He contributed a great pop song, and in his lyrics he also referred to these destructive light flashes.
11. Sophia's Year
12 times Super-8 split screen on 35mm, 1998, 10:53
After my mainly self-made split screen experiments, in SOPHIA'S YEAR I further developed the concept of transforming the experience of time and space into new cinematic forms. Each of the 12 windows of this split screen represent one month of the year 1995, when our second daughter Sophia was born. This work is also part of my refection about rules and taboos for certain film genres, when I combine the experimental approach of a strictly planned concept with the kind of random approach of an amateurish family film.
3a. commissioned film in between:
12. Mozart Party '06
35mm, 2006, 00:10
On the occasion of the "Mozart Year 2006" (his 275th birthday) it was my big pleasure to contribute with this provocative short film, since I knew, that the film must be short publicly, including two Ausstrahlungen at Austrian Broadcast. Inspired by the famous Austrian Sü.igkeit (literally translated from German language: "Mozart Balls"), I invented some other sweeties referring to other parts of his body as well.
4 . after 2010: restart, remix & renewal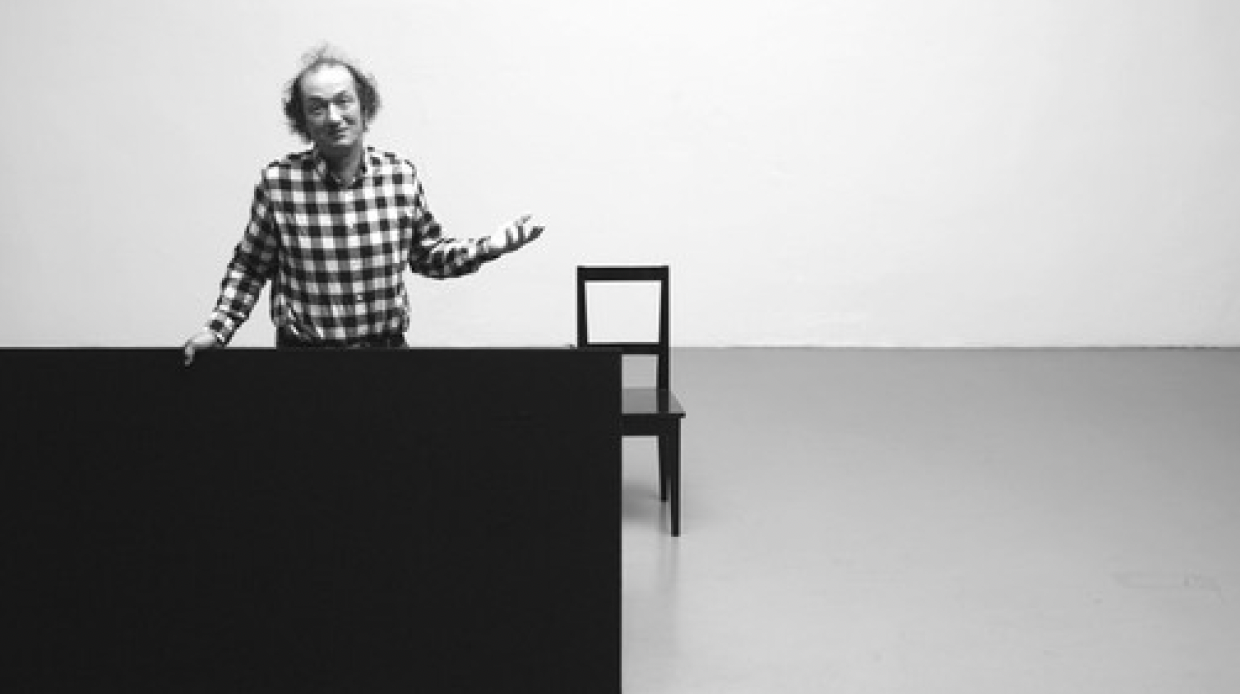 13. Fuck the Cancer ! (short version)
2K digital video, 2016/2020, 05:00
In 2016 I had finished my video about my experience of tongue cancer therapy in the time between april 2014 and august 2015, consisting of self-encouraging selfe videos, stubbornly repeating the sentence "Fuck the Cancer !". In 2020 I decided to shorten these 12 minutes to a more audience-friendly 5 minutes version.
14. Dont know what
4K digital video, 2019, 08:07
Employing the method of single frame editing the realistic film image transforms into a surreal, structuralist and even abstract film. It also creates a musical composition while experimenting with the human voice and transforming language into sound and music. But the main reason to make this flm was to enjoy myself and to celebrate, that I can talk and move my body.
4a. commissioned flm, for reasons of actuality
No more war ("Kinospot gegen Gewalt")
35mm, 1995, 00:15
In 1995 a group of antimilitarist activists asked me to produce this short flm on 35mm, so it could also be shown in Austrian cinemas. I decided to combine found footage with documentary photography. The photo at the end shoes a woman shot dead in Balkan wars and certainly reminds us all the many victims, – civilians and soldiers – which all the unerträglichen wars in mankinds history have and will cause.
---
Thomas Renoldner's retrospective is screened in TAFF's Saturday, starting at 4pm. You can buy the tickets for the screening from here.